Product Description
Arlo VMS3230-100NAR Wire-Free Security System with 2x HD 720p Cameras - Certified Refurbished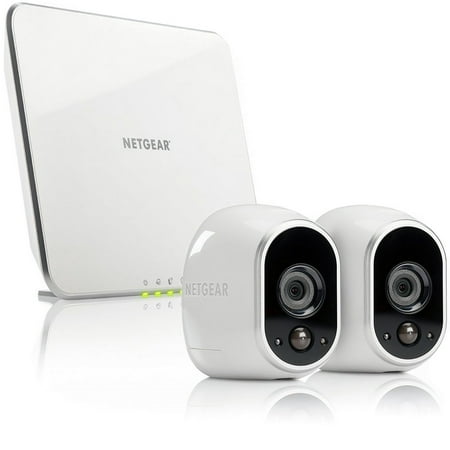 Key Features
Wire-Free magnetic mounts for easy setup anywhere
HD 720p Resolution
Night Vision w/ IR
Weatherproof, Indoor & Outdoor Ready
Motion Alerts
Alro App for Remote Viewing
7 Day FREE cloud storage
90 Day Warranty
Arlo Wire-Free Security System with 2 HD Cameras (VMS3230)
With an Arlo system, you'll have everything you need to get started. Just connect the base station to your WiFi router, sync your cameras, fire up the free Arlo app, and you're done in minutes.
Make sure to upgrade your service plan and add more cameras to make the most out of your system. Arlo cameras are the ONLY 100% Wire-Free, HD smart home security cameras on the market – so you can get exactly the shot you need - inside or out.
Cameras are weatherproof and include motion detection, night vision, and FREE apps. Cameras capture clips and send you alerts whether you're at home or away for round-the-clock peace of mind.
Arlo makes it easy to keep tabs on what's happening. Setup is fast. And with the free Arlo mobile app, all it takes to tune in from wherever you are is a quick tap of the finger. App also available on tablet and desktop.
It's so easy to add more cameras that you'll spend more time deciding where to put them than you will setting them up.
Live Stream using the Arlo app to stream live HD views, or rewind your cloud recordings to see what you missed.
Customize your system effortlessly adjust your system to fit your routine, keep watch only when you want it to, and avoid false alarms.
100% Wire-Free Put Arlo's IP cameras absolutely anywhere to watch over absolutely anything. No cords means no limits.
HD Video watch it all in crystal clear, high-definition 720p video that captures every detail.
Outdoor-Ready use Arlo cameras outside without a second thought. Hot or cold, in rain or snow, they never blink.
Night Vision to see what's happening in total darkness with cameras that don't care if the lights are on.
Motion Alerts tell Arlo when and where to watch for motion and get pinged if something moves when it shouldn't.
Free App & Cloud Storage and use the Arlo app to check in from anywhere. Or rewind up to 1GB of free cloud recordings to see activity you missed.
Arlo keeps track of the people and places you care about most in brilliant HD, provides live viewing from your smartphone, and sends notification alerts straight to you when motion is detected.
Place Arlo cameras in hard-to-reach places, indoor or outdoor, and watch over your home from anywhere.
Check in after school you're always just a tap away from making sure the TV's off, the homework's done, and all is well.
See who's at the door whether you're on the couch or at the office, Arlo can alert you when someone's coming. And show you who it is.
Monitor visits from housekeepers and babysitters to repairmen and yard help, keep tabs on all the activity.
Never leave home alone Arlo motion alerts let you know whenever anything moves and 7 days of free cloud recordings allow you to review whatever happened.
One security system. Endless possibilities.
Check on pet sitters make sure those taking care of your pets are earning their keep and being nice to your furred and feathered friends.
Sound Off Anytime use Arlo Q's 2-way audio to issue remote commands and corrections to pets no matter where you are.
Keep a Record Arlo stores the last 7 days of your recordings for free in the cloud so you can review them on-demand. Upgrade for more.
Other Details
Changed your mind and don't want the item anymore? No problem! You have 5 business days from receipt to inform us of the return and 14 days to ship it back to us. No restocking fee! Defective/Dead items will be fully refunded or replaced after matching the serial number with the one in our records. Non Defective items: must be new never used and unopened for a refund. Order cancellation: We can cancel your order only if you contact us within 1 hour after your purchase. No exceptions. Buyer must purchase shipping for all returns
Product Videos
Custom Field
Product Reviews